MKR, the governance token of the MakerDao platform has been proposed to be swapped for a new system through a recent blog post. It is currently unknown whether this would result in an update or something else entirely; however it does show insight into possible future changes as well as how decentralized platforms can implement different strategies without being controlled by one central figure.
Earlier this month, MakerDao community leader "monet-supply" put forward a proposal on the MakerDAO forum for a token economy alternative. The protocol could replace MKR, its current governance token, with stkMKR if the proposal passes a full governance vote.
In just a few hours after the proposal was posted, there were many responses, most of which were positive and focused on technical details. MIP (Maker Improvement Proposal) requirements need to be met following the proposal and discussion stage before it can be voted on by MKR holders. Voting usually takes place within two weeks.
In comparison to the current tokenomics model, which utilizes a "buyback and burn" mechanism, the staking proposal addresses some inefficiencies and problems. 'Monet-supply' has pointed out that there are several drawbacks to the existing mechanism, including a lack of targeted incentives since MKR holders retain the capital from buybacks and burns.
According to 'Monet-supply,' there is also a weak crypto narrative that could be rectified by MKR issuance. In addition, the current system has limited deterrence against governance attacks or vote manipulation.
MakerDAO proposes replacing MKR with the stkMKR token, which will serve as the core governance token.
This token would be used as a staking or bonding token for those who have deposited MKR for governance purposes.
"stkMKR represents MKR stake in governance and will not be transferable. MKR token holders will receive a share of surplus auction tokens, so over time stkMKR will be backed by an increasing amount of MKR."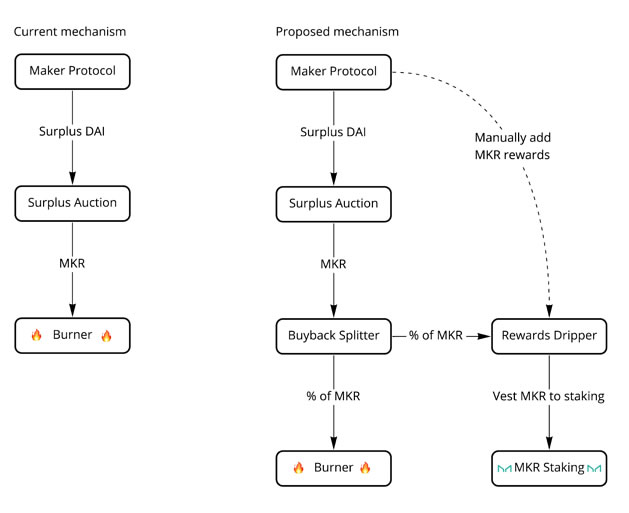 Money-supply stated that the rewards mechanism has been improved, and that the new system will give stakers more incentive to stake.
DAI, a decentralized stablecoin, can be generated by putting crypto assets into MakerDAO as collateral. You can use this in another DeFi protocol or liquidity pool. Once the "loan" has been repaid, and the collateral has been withdrawn, the DAI is burned.
At the time of writing, prices for MKR were flat on the day at $1,766 according to CoinGecko. Over the past fortnight, the token has dropped 11% and is down 72% from its May 2021 all-time high of $6,292.
Via this site.
Author